BIMA Satria Garuda (A.K.A. eng:BIMA The Garuda Warrior, jap:Garuda No Senshi BIMA (ガルダ の 戦士 ビマ, Garuda No Senshi BIMA)) is an Indonesian Tokusatsu produced by Indonesia MNC and Japan's Ishimori Productions, the company behind the Kamen Rider Series. On September 7, 2014, the second season titled Satria Garuda BIMA-X started airing. The series announced its first theatrical film, titled Satria Heroes Bima X: Revenge of Darkness and scheduled to release in the first quarter of 2017.
Led by the enigmatic Rasputin, the evil organization VUDO came from a parallel universe to steal the natural resources of Earth like oxygen, water and sunlight. Ray, a young man from Earth, was chosen to be a hero to protect the Earth from the evil invaders' attack.
Characters
Edit
Ray Bramasakti is the main protagonist who transforms himself to Bima Satria Garuda by using the Red Power Stone given by the mysterious person named Mikhail. A honest and quiet man, he is working as a technician in the Satria Motor. He was an orphan, but have Randy and Rena as his close friends. As BIMA, Ray is granted the agility, focus and strength of a Garuda. He also uses a weapon named Helios. When called, Helios will come flying out from the sun. His finishing move is the Garuda Strike.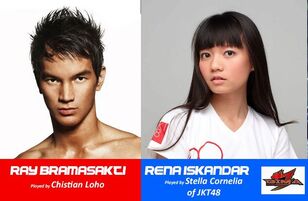 Villains Season 1
Edit
Monsters include Tiger, Scorpion and Lizard Monsterman. There is also a guy called Azazel who fights BIMA for Rasputin. He has a weapon called Toranus (God of Thunder).
Episode Season 1
Edit
Movie and Special
Edit
Video game
Edit
Bima X mobile game is available in Google Playstore and Apple Store from July 1, 2015, with a total of 11 playable character.[1]. The game is developed and published for free by Japanese entertainment company Namco Bandai Games.
References
Edit
External Links
Edit
Community content is available under
CC-BY-SA
unless otherwise noted.