Dennou Keisatsu Cybercop
Number
Number of episodes:
36
First episode:
Last episode:
{{{last-ep}}}
Original airing:
October 2, 1988
Dennou Keisatsu Cybercop (電脳警察サイバーコップ, Dennō Keisatsu Saibākoppu, Computer Police Cybercops) is a Japanese tokusatsu TV series. First created in 1988 by Toho Enterprises, the show was an attempt to create a Tokusatsu series using the Super Sentai

 motif, but the idea was dropped after the unaired episode 0. The show was broadcast on NTV and aired from October 2, 1988 to July 5, 1989.
In the year 1999, crime has overrun Tokyo city, Japan. Hopelessly outmanned and outgunned, the Tokyo Metropolitan Police Force decides to set up a special taskforce to combat the dire situation. Codenamed "ZAC" (Zero-Section Armed Constable), this police department is designed for special missions. For this cause, the police scientists developed the "Bit Suits", three high-powered armors outfitted with the latest technology: Mars, Saturn and Mercury. In the first episode, a mysterious young man, Shinya Takeda, appears from nowhere and saves the day after using his own armor, the Jupiter Bit Suit. Following his victory, he joins ZAC, which starts to battle the evil organization Death Trap, ruled by Baron Kageyama, which manages to use the computers' will-power to gain world domination.
Cybercops
Edit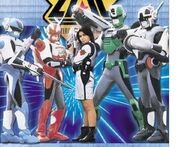 Other ZAC Members
Edit
Supporting Characters
Edit
Episode 14 ended up airing on January 15, 1989 because Emperor Shōwa died on January 7; and on April 12, the day that Episode 25 aired, the show began airing on Wednesdays instead of Sundays.
Guest Stars
Edit
External Links
Edit
Rescue Police Series - A trilogy of Metal Hero shows made by Toei that have a similar concept of super powered police officers.
Community content is available under
CC-BY-SA
unless otherwise noted.