Dinosaur War Izenborg (恐竜大戦争アイゼンボーグ, Kyōryū Daisensō Aizenbōgu) is a 1977 half-tokusatsu-half-anime series produced by Tsuburaya Productions.
to be added
Characters
Edit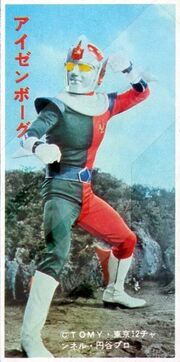 Monsters and Dinosaurs
Edit
Aroro
Monoro
Sutego
Torara
Rhanho
Torako
Tylosaurus
Parasa
Ororo
Unko
Imitation Unko
Iguano
Murara
Gororo
Kerala
Ptera
Tarbo
Sugora
Garara
Dynah
Guroro
Baton
Gallon
Topura
Gira
Galu
ZaZa
Demos
Dororo
Gagara
Giant Monster Gorilla
Giant Gorilla
Zobi
Terekira
Dodora
Black Maria
Garu
Yotandon
Monster Pteranodon
Bororo
Fake Izenborg
Saberan
Bodaros
Ulusuredon
Black Gamma
Saigora
Shadow
Wara
Shizalas
Golda
Kirasaurus
Magmadon
to be added
Supporting Characters
Edit
Like Azteckaiser, Izenborg was an anime-tokusatsu hybrid show.
A Westernized version was released on video under the title Attack of the Super-Monsters.
On December 15, 2017, a documentary of Izenborg was boardcasted in Saudi Arabia and Japan (under Tsuburaya's Youtube channel) under the title Return of Izenborg. As part of the Saudi Vision 2030 project, it contented brand new scenes that made by both Japanese and Saudi Arabian staff in 2016.[1]
External Links
Edit
References
Edit
Community content is available under
CC-BY-SA
unless otherwise noted.