Evolver (イヴォルバー -EVOLVER-, Ivu-orubā) is a 2004 original tokusatsu. The series was produced by by West Power, previously a production company owned by Japanese hobby shop chain Jungle as part of their Gaion Label imprint. The series was released direct-to-DVD in three volumes with English subtitles. West Power also released Gynoids: Sad Story, Powered Sister, and Zan Saber.
Plot
[
]
An anti-alien task force with battle suits based on advanced technology, Evolver, returns to finish the war they thought they ended against the Efreet. Only a small percentage of the population has the genetic factor that allows them to use Evolver technology, leading to a ragteam team with wildly diverging backgrounds: a stubborn schoolgirl, a disabled soldier, a practical desk clerk, and an amnesiac murderer. Evolver not only has to deal with the returning threat of the Ifreet, but with their own personal issues. A mysterious girl dressed in white that wants to unlock their inner power that could change the tide of battle...but at what cost?
Character
[
]
Rei Shiratori
Fubuki Aoyama
Dan Kuroki
Ryu Midorigawa
Go Kizaki
Shirou
Maya
Mysterious Girl
Dragon
Dirty Hammer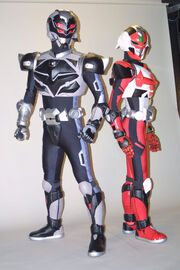 Cast
[
]
Riko Komura as Rei Shiratori
Mayuko Maruoka as Fubuki Ayoyama
Masashi Nakao as Dan Kuroki
Takashi Hagino as Shirou
Rieko Adachi as Maya
Rena Doi as Mysterious Girl
NEO as Dragon
Justin Buck as Dirty Hammer
Takeshi Kusao
Notes
[
]
Takashi Hagino previously appeared in Kamen Rider Ryuki as Kamen Rider Ouja and Changerion as Akira Suzumura. Rieko Adachi previously appeared in Heisei Ultra Seven as Rumi Honjou. Takeshi Kusao, the voice actor for Trunks in Dragon Ball, sings the theme song, Evolution Device, and has a cameo role. The ending theme, CARMINE was performed by NEO, who also was in charge of the background music for the series and other West Power tokusatsu productions.
West Power is no longer producing new series, but is still a part of Jungle, now hosting tokusatsu actor talk events. Jungle also sponsors the Osaka local hero ZEROS, who is prominently featured on their websites. Jungle had previously made a direct-to-DVD series for Zan Saber, another local hero from Osaka.
The English subs on the DVD releases of Evolver were done by Justin Buck, a former international rep for Jungle who plays a minor role as Dirty Hammer. He also did the English subs for another West Power/Jungle release, Powered Sister.
Riko Komura is now known as Kaori Ebe and plays billiards professionally. When she was introduced during the TBS news program Broadcaster on Saturday, August 23, 2008, her role in Evolver was not mentioned. She also previously made regular appearances (as Riko Komura) during the TV variety program BAT Factory. A 30-second commercial for Evolver aired in June 2004 during the show.
External Links
[
]