| | |
| --- | --- |
| | This article is about a/an regent anito in a version of Raja XX. |

"Datu Change! Form Habagat!"
"Datu of the deep seas! Datu Habagat!"
Jose is an intelligent, highly serious boy revealed to be the new Datu Habagat. With the rest of the Regent Anitos, he stands against evils that place the Earth in peril.
Biography
Edit
to be added
Personality
Edit
to be added
Datu Habagat
Edit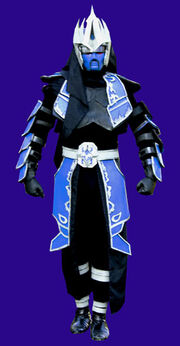 When Jose transforms with the RajaDrive, he takes on a wraith-like elder's appearance. A primarily defensive fighter, Datu Habagat yields the powerful AlonSalag (lit. WaveShield). It can transform into a hoverboard for a dash attack. The centerpiece can be removed and thrown as a chakram.
Arsenal
RajaDrive for use with DatuDisk
AlonSalag

AlonSalag Disc
AlonSalag Dash
AlonSalag Shield mode