Jumborg Ace & Giant (ジャンボーグA&ジャイアント Janbōgu Ēsu to Jaianto?), known in Thailand as Giant and Jumbo A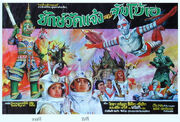 (ยักษ์วัดแจ้ง พบ จัมโบ้เอ - Yak Wat Jaeng phop Chambo E, or Yuk Wud Jaeng pob Jambo A, depending on the Romanization) is a tokusatsu SF/kaiju/superhero film produced in 1974 by Tsuburaya Productions of Japan and Chaiyo Productions of Thailand. It was released theatrically in Thailand in April 1974. It has not been released theatrically in Japan.
This film teams the Japanese superhero Jumborg Ace with a giant stone idol called Yuk Wud Jaeng, simply known as "Giant" (this character was the star of a very successful film, Ta Tien, produced earlier by Chaiyo Productions) against Ace's own enemies.
Community content is available under
CC-BY-SA
unless otherwise noted.