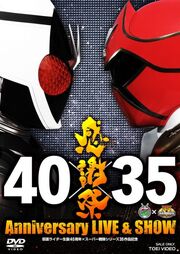 Kamen Rider × Super Sentai: LIVE & SHOW 2012 is the Kamen Rider × Super Sentai: LIVE & SHOW event of 2012. An annual crossover stage show at the start of the year, this year primarily featured the casts of Kamen Rider Fourze

and Kaizoku Sentai Gokaiger

. It was the first LIVE & SHOW concert, held to celebrate the 40th and 35th anniversary of the Kamen Rider and Super Sentai franchises respectively.
Titles in BOLD are performed in full. Titles in regular text are performed in the TV-Size version.
Kaizoku Sentai Gokaiger
Hurricaneger Sanjou!
Tokusou Sentai Dekaranger
Mahou Sentai Magiranger
Jumon Kourin~Magical Force
GoGo Sentai Boukenger
Juken Sentai Gekiranger
Engine Sentai Go-Onger
Engine Second Lap -TURBO CUSTOM-
Samurai Sentai Shinkenger
Tensou Sentai Goseiger
Super Sentai Hero Getter
FULL FORCE
W-B-X ~W-Boiled Extreme~
Giant Step
ELEMENTS
Let's Go Rider Kick 2011
The people with no name
Alive A life
Switch On!
Climax Jump DEN-LINER form
POWER to TEARER
Te wo Tsunagou ~Matsuken × Kamen Rider Samba~

This version of the song was sung by all of the musical performers from the show.
JUMP
Uchuu Keiji Gavan
Community content is available under
CC-BY-SA
unless otherwise noted.