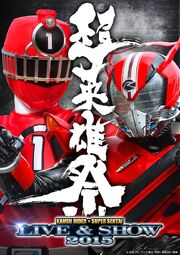 Kamen Rider × Super Sentai: LIVE & SHOW 2015 is the Kamen Rider × Super Sentai: LIVE & SHOW event of 2015. An annual crossover stage show at the start of the year, this year primarily featured the casts of Kamen Rider Drive

and Ressha Sentai ToQger

.
Titles in BOLD are performed in full. Titles in regular text are performed in the TV-Size version.
Ressha Sentai ToQger
ToQ Sou Shingeki!!!
Gaoranger Hoero!!
Tokusou Sentai Dekaranger
GoGo Sentai Boukenger
Juken Sentai Gekiranger
Engine Sentai Go-Onger
Samurai Sentai Shinkenger
Tensou Sentai Goseiger
Kaizoku Sentai Gokaiger
Busters Ready GO!
Vamola! Kyoryuger
Byun Byun! ToQger
Ressha Sentai ToQger

This version of the song was sung with all of the ToQger cast from the show.
Ranbu Escalation
JUST LIVE MORE
E-X-A (Exciting×Attitude)
ELEMENTS
Kamen Rider Kuuga!
Justiφ's
Anything Goes!
Let's Go!!Rider Kick
Tatakae! Kamen Rider V3
Amazon Rider Koko ni Ari
Shiny Days
SURPRISE-DRIVE
W
Sing my song for you ~ Sayonara no Mukōgawa Made
Uchuu Keiji Gavan
Uchuu Keiji Sharivan
Uchuu Keiji Shaider
Uchuu Keiji Shaider NEXT GENERATION
Jōnetsu ~We are Brothers~

This version of the song was sung by all of the musical performers from the show.
Community content is available under
CC-BY-SA
unless otherwise noted.