For the film series this movie started, see Super Hero Taisen Series.
Kamen Rider × Super Sentai: Super Hero Taisen (仮面ライダー×スーパー戦隊: スーパーヒーロー大戦, Kamen Raidā × Supā Sentai Supā Hīrō Taisen, Super Hero Wars) is a Japanese superhero crossover film between the Super Sentai

and Kamen Rider

franchises, serving to commemorate the 10th anniversary of TV Asahi's Super Hero Time block. In the film, the protagonists of Kaizoku Sentai Gokaiger

and Kamen Rider Decade

attempt to stop their respective leaders from engaging in an all-out massacre of their predecessors, while also featuring supporting roles from the Go-Busters

, Fourze

, OOO

, and Den-O

.
The catchphrases for the movie are "All Riders vs. All Sentai, Finally a Big Rumble!" (全ライダーVS全戦隊 ついに大激突!, Zen Raidā Tai Zen Sentai Tsui ni Daigekitotsu!) and "New Heroic Century: The Biggest Hero Battle!" (ヒーロー新世紀―史上最大のヒーローバトル!, Hīrō Shinseiki - Shijō Saidai no Hīrō Batoru!).
A sequel was announced and was released in 2013.
Production
Producer Shirakura says, "In the year after the anniversary we're not going to power down but cross it.... We want to show things you can't see in the regular shows. This was pretty close to impossible but I'd like to make it the norm for our spring films. Rider is science, Sentai is magic."
A teaser for the film was shown after Movie War Mega Max

, showing the 40 Kamen Riders and the 199 Super Sentai with Captain Marvelous

announcing "I will destroy all Riders!" (全てのライダーは俺が倒す!, Subete no Raidā wa ore ga taosu!).
A series of net movies called Kamen Rider × Super Sentai: Super Hero Taihen – Who's the culprit?!, or Super Hero Taihen for short accompany the film's release.
Synopsis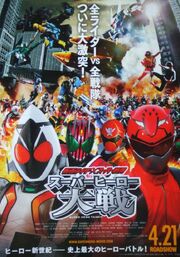 The Kamen Rider Club

discovers that the Dai-Zangyack

fleet is moving towards Earth, led by Captain Marvelous

as their Great Emperor. With many revived Super Sentai villains under his command, Captain Marvelous plans to obtain the Great Power of the Kamen Riders to gain the "Ultimate Treasure in the Universe

" (宇宙最高のお宝, Uchū Saikō no Otakara). Meanwhile, Tsukasa Kadoya

becomes the Great Leader of Dai-Shocker

once again and recruits past enemies of the Kamen Riders to take down the Super Sentai teams. Unknown to the heroes, the Kamen Rider villains comprising Dai-Shocker cooperate with Dai-Zangyack's Super Sentai villain members with the intent of taking over the world. Upon learning this, the Kamen Riders and the Super Sentai teams all join forces in order to stop their respective enemies once and for all.
Plot
The film begins with Captain Marvelous

of the Gokaigers

confronting and defeating the Seven Legendary Riders

before Tsukasa Kadoya

appears before him. While Marvelous swears to him he will not rest before all Kamen Riders are destroyed, Tsukasa claims he will not stop until all Super Sentai are vanquished. While watching Earth from the moon, Kamen Rider Fourze

, Yuki Jojima

, and Miu Kazashiro

see a series of shooting stars that turn out to be a Zangyack

fleet. Within moments, Amanogawa High is invaded by Zangyack militants as Gentaro comes to Shun Daimonji

's aid before being blasted away from the Kamen Rider Club to an area where he meets Captain Marvelous. Introducing himself as Kengo Utahoshi

and Yuki arrive, Marvelous reveals his intent to kill Gentaro as he transforms into Gokai Red. Transforming in response, Kamen Rider Fourze is overpowered by Gokai Red before sicking the soldiers on him. But, the rest of the Gokaiger crew arrive and take out the Zangyack soldiers before they attempt to talk Marvelous out of attacking the Kamen Riders. Marvelous is unconvinced as he summons his new ship, the Gigant Horse, and calls in Warz Gill

, Ackdos Gill

, Brajira of the Messiah

, the Black Cross King

, Long

, Dagon

, the Questers

, and Doukoku Chimatsuri

. Though Kamen Rider Meteor

arrives to lend a hand, Gokai Red retaliates by summoning Rider Hunter Silva

to cripple Meteor before inflicting the death blow and tells his crew that Kamen Rider Decade has already taken the lives of the Gorengers

and some of the other Super Sentai teams.
At their city's Kazami district, the Go-Busters

find people being attacked by various Kamen Rider monsters under Doktor G

of the revived Dai-Shocker

. Doktor G then introduces the Go-Busters to Dai Shocker's Great Leader, Tsukasa Kadoya

as he transforms into Decade to overpower them. But before he can finish them off, the Gokaigers

save their successors and demand an explanation from Decade. However, Decade blames Marvelous for starting the fight before the Crisis Fortress appears overhead with Doktor G summoning Apollo Geist , the Bat Fangire

, the Joker

, General Jark

, Neo Organism Doras

, General Shadow

, Llumu Qhimil

, the Arch Orphenoch

, the Gryllus Worm and the Alligator Imagin to weaken the Gokaiger so Decade kills Luka, Ahim, and Gai as Joe and Don are forced to retreat.
Elsewhere, Brajira and various Goseiger monsters attack Kamen Rider OOO

as the Double Births arrive to provide him back up before Silva arrives. Watching from afar, Marvelous encounters Daiki Kaito

and reveals his goal to obtain the "Ultimate Treasure in the Universe" (宇宙最高のお宝, Uchū Saikō no Otakara) by killing all Kamen Riders. Taking out the two Births while fighting Kamen Rider Diend, Marvelous is about kill his opponent when OOO sacrifices himself to save the other Riders. Taking Hina

and the Core Medals

on her person to the Crisis Fortress, Kaito confronts Tsukasa after he gave his forces the order to go after the Goseigers. Kaito manages to take Tsukasa's camera, refusing to support his friend as he and Hina are forced to retreat with Tiger-Roid and Komathunder sent after them as they run into Joe and Doc as they debate over their next course. At Hina's behest, Kaito becomes Diend to wipe out the Dai-Shocker monsters. Learning that he is a Kamen Rider, despite stating he is on no one's side in the conflict, Joe attempts to take out his frustrations on Kaito as he reveals what Marvelous' intention while he spares Joe's life upon beating him. From there, Don offers that they all join forces to solve what is truly going on with Marvelous and Tsukasa.
Seeing that finding one of them is the only way to find answers, Kaito takes the others to Decade as he kills the Goseigers. Though they came only to talk, Joe is intent on fighting as Doras defeats him. However, Marvelous destroys the monster to save Joe and tells his first mate that this is for survival as only one group of heroes can exist. Telling Joe that Akarenger knows the true story, Marvelous tells him not to interfere as he confronts Tsukasa. With their amassed armies ordered to stand back and watch, Marvelous and Tsukasa transform and do battle. With both Gokai Red and Decade evenly matched, the fight ends in a stalemate. Later that night, Joe attacks Kaito but lacks the will to kill him while admitting he does not want to see any more death. When they decide to find Akarenger

, Joe points out that he is dead. Kaito decides to buy them a ride on the Den-Liner

with the cup of pudding he stole from Momotaros during their last meeting. Arriving in the winter of 1976 to watch his battle with Baseball Mask, Akarenger reveals that he knows why they come and ask them to take him to their time as he is joined by the the Zyurangers

, the Goggle V

, the Megarangers

, the Dekarangers

, and the Livemen

. But Kamen Rider 1

suddenly arrives with Kamen Riders Kuuga

, Faiz

, Kabuto

, Kiva

, and Double

with a battle ensuing where only Akarenger and Kamen Rider Ichigo remain.
However, Akarenger and Kamen Rider Ichigo are revealed to be Gokai Red and Decade in disguise as both planned to flush out the remaining opposition and put an end. Mortified with Marvelous's drive to sacrifice their own, a betrayed Joe engages his captain with Kaito protecting him before being knocked out by Decade. With both Kaito and Joe taken out, Gokai Red and Decade resume their epic battle have been before Doktor G and Silva arrive and reveal that Dai-Shocker and Dai-Zangyack have been playing them both in order to remove any opposition to combining their fortresses into Big Machine to take over the world. However, Marvelous and Tsukasa knew of the treachery and played along while sending those they seemingly defeated into a dimensional rift until the time to spring their trap arrived. Joined by the Gokaiger crew, OOO, and the real Akarenger and Kamen Rider 1 as they transform, Decade and Gokai Red are joined by Fourze, Meteor, the Go-Busters, and every other Kamen Rider and Super Sentai team to stand against the Shocker-Zangyack Alliance. However, as Go-Buster Oh is formed to fight the enlarged Warz and Ackdos while he and Gokaigers defeat General Shadow, Decade is horrified to find a revenge-driven Kaito as he forms Big Machine to teach everyone a lesson as the mecha kills Ackdos and Warz.
Entering Big Machine, Diend uses it on Go-Buster Oh with Fourze saving Yellow Buster. Given the Rocket Super-1 Switch and a new Astro Switch, Fourze takes over Yellow Buster's place in piloting Go-Buster Oh as it engages Big Machine with the Super Rocket-1 Switch giving the giant robot the means to take their opponent into space. Back on Earth, the Gokaigers gain OOO Ranger Keys to take out Silva while Doktor G becomes Kani Laser to overpower the Kamen Riders before the Goseigers give Decade, Ryuki, and Blade their Tensou Cards to overpower the Destron monster prior to using their signature moves to finish him. However, Doktor G is revealed to be Narutaki as he leave while telling Decade that he will never stop until he is dead. Back in space, using Saturn's gravity as a boost, Fourze install the Drill Switch Super-3 on Go-Buster Oh to destroy Big Machine. Soon after, as Eiji and Hina are reunited, the Gokai Galleon crew watch Fourze befriending the Go-Busters. Marvelous then joins up with his crew sees the ultimate treasure being friendship between the Kamen Riders and the Super Sentai teams while accepting Eiji's friendship. As for Kaito, having survived the Big Machine's destruction but badly injured, gives Tsukasa back his camera and tells him to find his own path before accepting Tsukasa's (and Joe's) friendship in his own way while leaving.
Continuity and Placement
Characters
Kamen Riders
| | |
| --- | --- |
| Red Flash | Jin (transformed only) |
| Green Flash | Dai (transformed only) |
| Blue Flash | Bun (transformed only) |
| Yellow Flash | Sara (transformed only) |
| Pink Flash | Lou (transformed only) |
| | |
| --- | --- |
| Red Mask | Takeru (transformed only) |
| Black Mask | Kenta (transformed only) |
| Blue Mask | Akira (transformed only) |
| Yellow Mask | Haruka (transformed only) |
| Pink Mask | Momoko (transformed only) |
| | |
| --- | --- |
| NinjaRed | Sasuke (transformed only) |
| NinjaWhite | Tsuruhime (transformed only) |
| NinjaYellow | Seikai (transformed only) |
| NinjaBlue | Saizou (transformed only) |
| NinjaBlack | Jiraiya (transformed only) |
| | |
| --- | --- |
| GingaRed | Ryouma (transformed only) |
| GingaGreen | Hayate (transformed only) |
| GingaBlue | Gouki (transformed only) |
| GingaYellow | Hikaru (transformed only) |
| GingaPink | Saya (transformed only) |
| | |
| --- | --- |
| TimeRed | Tatsuya Asami (transformed only) |
| TimePink | Yuri (transformed only) |
| TimeBlue | Ayase (transformed only) |
| TimeYellow | Domon (transformed only) |
| TimeGreen | Sion (transformed only) |
| | |
| --- | --- |
| Gosei Red | Alata (transformed only) |
| Gosei Pink | Eri (transformed only) |
| Gosei Black | Agri (transformed only) |
| Gosei Yellow | Moune (transformed only) |
| Gosei Blue | Hyde (transformed only) |
Allies
Villains
Cast
Kamen Rider Fourze cast
Tokumei Sentai Go-Busters cast
Kamen Rider Decade cast
Kaizoku Sentai Gokaiger cast
Returning Kamen Rider cast
Returning Super Sentai cast
Miscellaneous voice actors
Suit Actors
Kamen Rider Form Changes and Collectibles Used
Switches Used:
States Used:

Elek States, Fire States, Magnet States
Medals Used:

Head - Taka
Arms - Tora
Legs - Batta

Combo Used:
Card Used:

Decade

Kamen Ride - Decade, Faiz, Kabuto, Blade, Hibiki, Ryuki, 1
This is the only time Decade transforms into a Kamen Rider from the Showa Era outside of stageshows and video games.
Super Sentai Form Changes and Collectibles Used
Kamen Rider Ryuki - Reflequartz
Kamen Rider Blade - Refleclear
Kamen Rider Decade - Reflecloud
This is the only time the Gosei Cards are used by non-Gosei Angels.
This is the second time Decade borrows a power from a Super Sentai team since the Rekka Daizantou from his crossover with the Shinkengers.
Kamen Ride vs. Gokai Change Parallels
All of Tsukasa's Kamen Rides and 8 out of 9 of Marvelous' solo Gokai Changes in this movie share something in common with an opponent they battle.
Director's Cut
A Twitter user asked Toei producer Shinichiro Shirakura if there were plans for a Director's Cut release for Super Hero Taisen. He replied that there was a plan to make one.
But apparently it won't be made due to lack of time to work on it. The original Super Hero Taisen movie lasted for 1 hour and 29 minutes. Some scenes from the original promotional materials for the movie didn't make it in the theatrical release. [1]
Scenes removed from the movie include:
Theme song
"Jōnetsu ~We are Brothers~" (

情熱 ~We are Brothers~

"Passion (We are Brothers)")

Lyrics:

Shoko Fujibayashi

Composition:

AYANO

(of

FULL AHEAD

)
Arrangement:

RIDER CHIPS

,

Junichi "IGAO" Igarashi

,

Kotaro Nakagawa

Artist: Hero Music All Stars
The Hero Music All Stars consist of

Yoshiharu Shiina

, the

Kamen Rider Girls

,

Aya Kamiki

,

TAKUYA

,

m.c.A.T

,

Rider Chips

,

Rica Matsumoto

,

Kenichiro Ōishi

,

Hiroaki Kagoshima

,

Hideyuki Takahashi

,

Tsuyoshi Matsubara

,

Saki Oshitani

,

NoB

,

Psychic Lover

,

Hideaki Takatori

,

Takayoshi Tanimoto

,

Takafumi Iwasaki

,

Sister MAYO

, and

Mayumi Gojo

.
Reception
In its first week in theaters, Super Hero Taisen opened at the #1 spot in the Japanese box offices, edging out Case Closed: The Eleventh Striker.
It earned mixed reviews and some disappointment from fans of both franchises.[2]
International Movie Theaters
The film was released in Hong Kong on November 16, 2013, available in both Japanese language with Cantonese subtitles and Cantonese dub. Later, it released in South Korea at January 23, 2014 separately with dubbed and subbed version.
Errors
When the Gokaigers activated GokaiGalleon Buster's Giga Scan, Gokai Silver was seen holding his Sagohzo Combo Key and tried to insert the key into the Cannon, but in the very next scene, it was Maverlous's hand inserting the Tajadol Combo Key into the back Cylinder.
Notes
The title is a pun on Super Hero Time, that is the program block where both Kamen Rider and Super Sentai air in.
This film has a format similar to the Kamen Rider Movie Wars, and the Super Sentai VS movies.
Articles referring to the film refer to it as Super Hero Wars (Super Hero Taisen), as well as 199 vs 40, or 200 vs 40, referencing the number of rangers and riders, respectively. However, it's been said that the numbers are approximations, with 199 referencing Gokaiger's previous reference to all the rangers (which was obsolete by the time the movie premiered, due to the premiere of Go-Busters), while 200 and 40 are rounded-off estimations of Rangers and Riders in general.

Despite this, only 173 Sentai Rangers appear in this movie. However, the promised 40 Riders do appear.

Despite the death of actress Machiko Soga, there were plans for Queen Hedrian, who had uniquely served as a major villain in both Denshi Sentai Denziman and Taiyo Sentai Sun Vulcan, to return among the Super Sentai villainy in this film.[3]
This is the third time for both Super Sentai and Kamen Rider that both franchises has physically crossed over with a series from another Tokusatsu franchise:
It has been confirmed that after this movie, "spring hero movies" will become commonplace.

Although before this was confirmed, in the past, the Kamen Rider franchise had films in the spring where Riders (mostly Den-O) team up with the current series.

Despite this movie being released during the run of Kamen Rider Fourze and Tokumei Sentai Go-Busters, the main characters from both series make only brief civilian appearances and are minor characters in the plot with the majority of the focus being on Decade and the Gokaigers (specifically Marvelous, Joe and Doc), since they are both an anniversary series for their franchises, as well as having the ability to change into past heroes of their respective franchises.
The Sentai villains of this film, Dai-Zangyack, are similar to Dai-Shocker, the villains from the final third of Kamen Rider Decade in that they are a collection of past villains converged into a larger conglomerate.
The only members of the Super Sentai 199 to not appear in this movie are the 6th Rangers (except Gai), the 10 Bangai Heroes/Extra Rangers, AkaRed, the Gouraigers, and AbareBlack.
During the climatic battle with the villains, the Kamen Riders and Sentai teams team up based on their years of airing, including some team-ups that were prior to the Super Hero Time format (such as Hikari Sentai Maskman and Kamen Rider BLACK).
Kamen Rider Fourze piloting Go-Buster Oh through RH-03 (Yellow Buster's rabbit mecha) references the name of the moon base the Kamen Rider Club is held in (the name of it is the Rabbit Hatch).
Although it was implied in Final Ep.: Farewell Space Pirates, this movie confirms that at the very least all the Core Sentai Rangers got their powers back.
Despite having given up the Ranger Keys in Final Ep.: Farewell Space Pirates, Marvelous is seen using several during the course of this movie with no mention of how he obtained them. It is explained in the next film that they've been borrowing keys as needed.
On the Decadriver, the way that it announce "Attack Ride" is different.
Although a few scenes are set aboard the Gokai Galleon, Navi does not appear in this movie.
Ironically, four of the Gokaiger actors go past playing characters who used previous Rangers' powers and actually take over the roles of previous Sentai: Yuki Yamada/Gokai Blue played GekiRed, Mao Ichimichi/Gokai Yellow played her Gekiranger predecessor GekiYellow, Yui Koike/Gokai Pink played Go-On Yellow and Junya Ikeda/Gokai Silver played Go-On Red. Additionally, Kazuki Shimizu/Gokai Green also played Kamen Rider X, becoming one of the few actors to play both a Rider and Sentai Ranger. This also makes Ryota Ozawa/Gokai Red the only Gokaiger actor who does not portray more than one character. However, these extra roles are voice only and not significant roles.
With a whopping 486 total costumed actors on screen, Toei sent this movie in to see if it could be entered into the Guinness Book of World Records. [4]
The movie features the Flamethrower VS. Fire Extinguisher myth (Gokai Red's Red Fire VS. Fourze's Fire Extinguisher Hi-Hackgun), which was busted in MythBusters before the movie's premiere 20 days later.
Despite being shown to have been defeated, Kamen Riders G3, Knight, Zolda, and Gatack, are not shown during the final battle.

In addition, during the scene where all the Riders and Sentai are running into battle, Black Bison, Green Sai, GekiViolet, GekiChopper, Den-O Rod, Den-O Ax, Den-O Gun, and the aforementioned Riders are not seen. This may imply that these characters were added in late to the development of the movie.
The film's TV premiere was on August 25th, 2013, it aired on TV Asahi in place of Super Hero Time with Pretty Cure All Stars New Stage: Friends of the Future, pre-empting Brave 27 of Zyuden Sentai Kyoryuger and episode 49 of Kamen Rider Wizard for a week. This special event, the Super Hero & Heroine Summer Vacation Special, also featured the first-look preview of Kamen Rider Gaim.
The Zodiarts and Vaglass do not appear in this movie, although the latter are mentioned by the Go-Busters.
Despite the fact that Eiji and Gentaro appear together for the third time, they don't interact each other.

Also for the Sentai teams Gokaiger and Go-Busters, this movie would be the first time both teams meet, but like Kamen Riders OOO and Fourze, they don't interact with each other.

The outfit Eiji wears in this film is similar to the one he wore in Kamen Rider OOO Wonderful: The Shogun and the 21 Core Medals.
This film marks the first time Hiromu Sakurada/Red Buster comes into contact with a Kamen Rider, particularly Decade. His actor would portray a Kamen Rider seven years later.
References
External links