Kamen no Ninja Akakage (仮面の忍者 赤影 Masked Ninja Akakage), was produced by Toei Company Ltd., and aired on KTV and Fuji TV from April 5, 1967, to March 27, 1968, with a total of 52 episodes (divided into four segments).
This was Toei's first color tokusatsu superhero show and Japan's first color live-action ninja TV series. Aokage's footage from the series was used to create several Watari films with the titles like The Magic Sword of Watari (not to be confused with the unrelated 1966 film Watari, Ninja Boy).
The story is set in the late sixteenth century, when Japan was in the midst of a long period of civil wars. While some seek to unite Japan in order to bring peace, there are others who encourage conflict in order to bring more power to themselves. Akakage, Aokage and Shirokage are all good ninjas working for those who seek peace and unity and battling against evil ninjas and their daikaiju (giant monsters).
Akakage, is a ninja who wears a red-and-black costume and a stylized red mask. His adventures take place in Feudal Japan, where he and his ninja sidekicks Aokage and Shirokage fight evil warlords, wizards and daikaiju using high-tech gadgets (a blatant oddity in a period setting).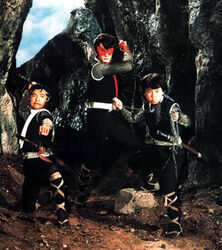 Gama Houshi
Kinenbu
Kugutsu Jinnai
Akuduji
Yami Hime
Kugutsu Jinnai
Oboro Ikkan
Mu Dou Hitotsume
Kuro Koumori
Shiranui Tenma
Gyorin Ryu Haku
Haku Kuki
Syuujuu Sakon
Maruujyo
Musasabi Douken
Kuro Duushi
Mizumasi Ryuma
Uzumaki Ikkansei
Yamabiko Ta Mon Maru
Arinomi Ganbei
Hyaku Menki
Yaka
Tsumuji
Mushiyase Kazaha
Hitomukade no Yajiri
Nagareboshi Sajyuu
Mafuu Gyuubu
Izayoi Genshin
Yome Cyusai
Komou Jijhyuu
Kuroma Saruhiko
Kuroma Inuhiko
Chishio Syuugen
Yami no Kurozo
Kuchyashi Mizuno
Ashikiri Mondo
Induubuu Onimaru
Hananoko Douhaku
Fuduu Kongumaru
Dekka Dekka Touma
Kamen no Ninja Akakage was divided into four chapters, of 13 episodes each. At the end of each chapter the head evil ninja would be killed, then the next chapter would introduce new evil ninja.
Toad Priest Apparition
The Kouga's Evil Child
Gama Houshi's Counterattack
  The Mysterious Spy's Mansion
  Riddle of the Ninja Top
  Frightning Big Evil Figure
  One-eyed Witch Goblin
  Secret of Southern Barbarian Tube
  Immortal Evil Figure
  Mysterious Ninja Kuro Koumori
  Kinenbu's Iron Vehicle
  Yami Hime's Hair Storm
  Destruction Strategy of Big Evil Figure
Riddle of the Manji Clan
Little Priest Haku Kûki
The Needlecrest Demon Monster
Immortal Marûjyo
Monster Crow
The Twirling Umbrella Ninja Technique
Monster Great Manji
Skeletons Swallowed By Whirling Tides
The Form-Changing Monster
Marûjyo From Hell
The Grosbeak Siblings
Demon Bells
Big Explosion
13 Kon Ninjas Arrival
Big Monster Fish Niinja Skill
Yamabiko Transform Niinja Skill
Ant Monster Gabari
Strange Ninja Hyaku Menki
Agon Iron Armor
Big Centipede Doguma
Monster Big Counterattack
Owl Monster Gappo
Stone Buddha Ninja Skill
Ninja Monster Jyako
Monsters Ninjas Full Forces
6 Big Monsters Counterattack
Fûma Clan Ninjas Invasion
Armored Monster Guron
The Steel Whip Ninja Technique
Vampire Monster Gizorun
The Ninja Without a Face
Rock Monster Gagara
Monster Gagara Versus Zabami
Monster From Fûma Temple
Children's Ninja Technique Contest
Cannibal Flower Babiran
Lizard Ninja-Beast Jijigora
Fûma Ninja Forces Decisive Battle
Six Big Monsters Encirclement
Akakage: Sakaguchi Yuzaburou
Aokage: Yoshinobu Kaneko
Shirokage Maki Fuyukichi
Kagerou: Toki Misa
Oda Nobunaga: Kuraoka Shintarou, Shimada Keiitirou (other chapter)
Takenaka Hanbee: Satomi Koutarou
Kinoshita Toukichirou: Ohtuji Shirou
Kouga Genyousai: Amatsu Bin
Kurayami Kidou: Hara Kensaku
Mahuu Ikduchimaru: Shioji Akira
Narrator: Yamaguchi Sachio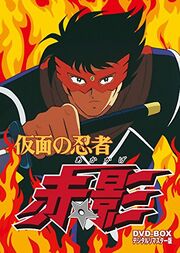 Kamen no Ninja Akakage (仮面の忍者赤影 Masked Ninja Akakage) is the anime remake produced by Toei that aired on Nippon Television from October 13, 1987, to March 22, 1988, with a total of 23 episodes. The complete series was released on DVD by Toei Video on June 10, 2015.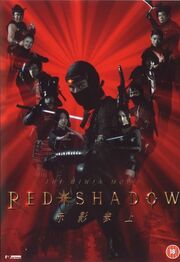 Red Shadow (RED SHADOW 赤影 Reddo Shadō Akakage) is a loose remake of the 1969 film for the original Akakage series. It was released in 2001, and was directed by Hiroyuki Nakano. It stars Masanobu Ando in the title role. The story, characters and their costumes were, however, re-designed from scratch.

This was the one of the first toku superhero shows to be featured in color.
Sennengama, the frog monster that appears in one episode, is actually a reworked toad from Magic Serpent.
Sennengama further connects to the Magic Serpent in a later episode where he fights the dragon from the same film in a dream sequence.
Community content is available under
CC-BY-SA
unless otherwise noted.