Ken Hayakawa is Zubat, the protagonist and eponymous character in Kaiketsu Zubat.
Biography
to be added
Zubat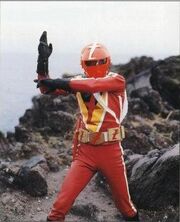 Ken Hayakawa is a a private detective dressed in black & red gringo cowboy attire. Hidden in his white guitar, is his red & black "Zvasuit", with the push of a secret button, the suit springs out of the guitar which Ken puts on like a regular costume. However, the suit can only be worn for 5 minutes as the circuits in the suit would overload after that period of time and the suit would explode. As a result, every time Ken puts on the suit he risks killing himself.
Arsenal
The Zubatcar
The Zubatcar is Zubat's vehicle. It was originally designed by his friend Asuka Goro to be a rover for interplanetary exploration, but was remodeled by Ken for his own personal use in his war against the crime syndicate Dakker.
The car features a propeller and two rocket boosters on the rear and retractable wingblades on the hood for flight capability.
Notes
"Zubat" is alternatively romanized as "Zvatt".
Zubat's design is similar to that of a Sentai hero.

It also is meant to be designed after the known masked hero Zorro.

TOEI UNIVERSE
The Heroes
Super Sentai

- Kamen Riders

- Space Sheriffs

- Kikaider - Kikaider 01 - Inazuman - Zubat
Crossovers in Series
Shinkenger vs. Decade: Act 20: The Ebi Origami's Transformation

, Act 21: The Father and Son Bears

,
The Arrival of the Samurai Sentai

, Heretic Rider, Go Forth!

Go-Busters vs. Gavan: Mission 31: Space Sheriff Gavan Arrives!

, Mission 32: Friendship Tag With Gavan!


ToQger vs. Gaim: Ressha Sentai ToQger Vs. Kamen Rider Gaim Spring Vacation Combining Special
Gaim vs. Kikaider: The Over Lord King

, The Red and Blue Kikaider


Ninninger vs. Drive: Shuriken Sentai Ninninger Vs. Kamen Rider Drive Spring Vacation Combining Special
Ninninger vs. Jiraiya: Shinobi 34: Enter Jiraiya, Legendary World Ninja!


Zyuohger vs. Ghost: Spring Vacation Combining Hero Festival, Ep. 7: Gho-Gho-Gho-Ghost Appears


Kyuranger vs. Ex-Aid: Chou Super Hero Taisen: Movie Release Anniversary Special
Kyuranger vs. Gavan: Space.18: Emergency Dispatch! Space Hero!

Super Hero Taisen Series
Super Hero Taisen - Super Hero Taisen Z - Kamen Rider Taisen

- Super Hero Taisen GP - Chou Super Hero Taisen
Space Squad
Dekaranger Chapter - Gavan Chapter - Girls in Trouble - Gavan vs. Dekaranger - Hero Mama League - Uchu Sentai Kyuranger vs. Space Squad
Other Crossovers
Toei Hero Daishugō (Kamen Rider World

- Super Sentai World

) - Ultraman vs. Kamen Rider - Gokaiger vs. Gavan
Cameo Crossovers
J.A.K.Q. Dengekitai vs. Gorenger

- OOO, Den-O, All Riders: Let's Go Kamen Riders

- Tokumei Sentai Go-Busters vs. Beet Buster vs. J

Crossovers in Other Media
Rangers Strike

(TCG)
View • Edit
Community content is available under
CC-BY-SA
unless otherwise noted.