This article is about a show in the Tokusatsu Super Hero subgenre.
| | |
| --- | --- |
| | WARNING: This series contains scenes of nudity and pornography in special episodes not uploaded to YouTube. Viewer discretion is advised! |
Kyuusei Sentai Wakuseiber (救星戦隊ワクセイバー, Kyūsei Sentai Wakuseibā, litterally Salvation Star Squadron Wakuseiber), alternatively spelled Wakusaver, is a Japanese Tokusatsu web-television series created by AV company GIGA in homage to Toei's Super Sentai

series.
The show airs exclusively on YouTube for all-ages, with its final episode, an extended cut of episode five with AV content, being exclusively on an adults-only DVD and digital download. Episodes 1-5 are also available on DVD as the "Tokusatsu Edition", available through GIGA's "Heroine Tokusatsu Institute" stores and DVD sales site.
A movie cut of Wakuseiber Season 1 will premiere internationally on July 21, 2022 during the 19th edition of Festival Nits de Cinema Oriental, an Asian summer film festival held in Spain. The festival has previously aired various tokusatsu movies and shorts, including all ages versions of works from Zen Pictures, GIGA's "softcore", action-oriented imprint.
As a nod to Super Sentai titles having certain motifs, each member of the Wakuseibers are themed after a planet within the Solar System.
A live event, the "Kyuusei Sentai Wakuseiber Festival", was held on October 29, 2021. Season 2 started airing on October 29, 2021.
Story
Four men are recruited by a mysterious heroine and a rabbit in order to stop an evil empire from gathering the best DNA the Earth has to offer in order to create the ultimate body.
Characters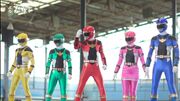 Allies
Villains
Arsenal
Transformation Devices
Unnamed Brace Changer ◆◆◆◆◆
Multi-Use Devices
Individual Weapons
Burst Blade

◆

Splash Arrow

◆

Flash Axe

◆

Gail Boomerang

◆

Gaia Rod

◆
Episodes
Cast
References
External links