Lady Battle Cop (女バトルコップ, On'na Batorukappu) is Japanese Tokusatsu film released in 1990. It is Toei's first tokusatsu released only by V-Cinema. It is a hybrid of the American film Robocop and the Metal Hero Series

Kidou Keiji Jiban

. The suits are designed by Keita Amemiya.
Two seemingly invincible fighters, one good, one evil. Square off in this sci-fi action opus from Japan. When a four-man terrorist group known as Team Phantom begins raising havoc in downtown Tokyo, the city is in desperate need of a hero. An unexpected champion appears in the form of Lady Battle Cop, a former female tennis champion who has been transformed into a seemingly unstoppable cyborg. But when Team Phantom obtain a secret weapon from an underground military facility. Amadeus, a psychotic murderer with the ability to kill using psychic powers. it's anyone's guess who will emerge triumphant.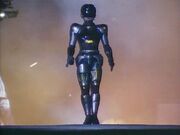 International Criminal Organization Cartel
Azusa Nakamura as Kaoru Mikoshiba/Lady Battle Cop
Kisuke Yamashita as Detective Masaru Saijō
Yuki Kitazume as Naoya Koizumi
Masaru Matsuda as Amadeus
Toshiaki Nishizawa as Iwao Kido
Shirō Sano as Henry Ōba
Masashi Ishibashi as Team Phantom Captain
Annu Mari as Team Phantom Elite
Derrick Holmes as Team Phantom Elite
Kiyokazu Inoue
Ippei Soda
Takeshi Ishikawa
Killer Khan
Kazuyoshi Ozawa
Yoshiaki Ueda
Opening Theme: NO NO GIVE-UP
Ending Theme: Believe my life ~Watashi wa Watashi
It's unknown if this V-Cinema take place in Toei's shared universe.
The ending states that "The Battle Continues", but like some OV movies such as Shin Kamen Rider: Prologue that promise a sequel, there never was a follow up.
Community content is available under
CC-BY-SA
unless otherwise noted.