Mysterious Nile Girl Thutmose (不思議少女ナイルなトトメス, Fushigi Shōjo Nairu na Totomesu) is the 12th entry in the Toei Fushigi Comedy Series created by Shotaro Ishinomori and produced by Toei. It was inspired by the Tutankhamun boom in Japan at that time.
On April 2020, Thutmose became one of the 70 shows to stream on the Toei Tokusatsu World Youtube channel.
"I want to fight beautifully, as long as the sun is in the sky. Mysterious Girl, Nile Thutmose."
―Thutmose's pre-battle catchphrase
Sanae visits her ancestors' grave to report she was moved house. However, her arrival damages the family mausoleum, and releases 51 ancient spirits of the Nile that were formerly sealed inside. Sanae's ancestor, Thutmose, orders her to recapture the devils, using the secret identity of Mysterious Girl Nile and her newfound Egyptian magic powers.[1]
Characters
Edit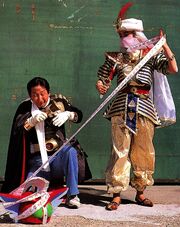 Thutmose
Sanae Nakajima (

中島サナエ

)
Sanae's Parents
Edit
Yukie Nakajima (

中島ユキエ

)
Kenzō Nakajima (

中島ケンゾー

)
Thutmose Girl Squad
Edit
Manami Nakajima (

中島マナミ

) (Sanae's Sister)
Itsuka Kawasaki (

川崎イツカ

)
Hanako Ishikura (

石倉ハナコ

)
Other Townspeople
Edit
Tina Gushiken (

具志堅ティナ

) (Sanae's Best Friend)
Shinto Priest (

神主

) (Tina's Father)
Ippei Matsumoto (

松本一平

) (Cram School Teacher)
Police Officer (

警察官

)
Republic Gunchala
Edit
President Damente (

ダメンテ大統領

)
Damente's Interpreter (

ダメンテの通訳

)
Nile's Demons
Edit
Sanae Horikawa (

堀川早苗

) as Sanae Nakajima
Fumiyo Sako (

迫文代

) as Yukie Nakajima
Shigeru Saiki (

斉木しげる

) as Kenzō Nakajima
Manami Seki (

関真奈美

) as Manami Nakajima
Itsuka Ishizaka (

石坂伊津佳

) as Itsuka Kawasaki
Hanako Nakamura (

中村花子

) as Hanako Ishikura
Tina Gushiken (

具志堅ティナ

) as Tina Gushiken
Masaru Okada (

岡田勝

) as Shinto Priest
Takashi Tsumura (

津村鷹志

) as Teacher Matsumoto
Fumihito Kubo (

久保史

) as Police Officer
Hiromasa Taguchi (

田口浩正

) as President Damente
Kazumasa Koura (

小浦一優

) as Damente's Interpreter
Tessan Yamane (

山根鉄仙

) as Chairman Warusa
References
Edit
↑ Jonathan Clements, Motoko Tamamuro.
The Dorama Encyclopedia: A Guide to Japanese TV Drama Since 1953, p.205.
Stone Bridge Press. Berkeley, California. 2003. ISBN 1-880656-81-7
Let's fight as long as there is love!: Collecton of magical maidens (

愛ある限り戦いましょう!: 不思議美少女コレクション

Ai Aru Kagiri Tatakaimashō!: Fushigi Bishōjo Korekushon

)
Shufu to Seikatsusha (

主婦と生活社

), 2004. ISBN 439112968X, 978-4391129687
Community content is available under
CC-BY-SA
unless otherwise noted.