Ryūsei Ningen Zone
Number
Number of episodes:
26
First episode:
Destroy The Terro-Beast Missile!
Last episode:
{{{last-ep}}}
Original airing:
April 3, 1973 - August 24, 1973
description to be added
The evil Garoga aliens plan to take over Earth with their army of giant Fearbeasts. They are opposed by the members of a family from a planet called Peaceland that was also destroyed by Garoga. They use a variety of exotic vehicles and weapons but their primary weapon against Garoga is the oldest child Hikaru, who is able to transform into the giant Zone Fighter.
Zone Fighter is sometimes aided in his battles by Godzilla (who at the time was portrayed as a heroic kaiju).
Characters
Edit
to be added
Garogas
Baron Garoga
Silver Garoga
White Garoga
Red Garoga The Garoga X Squadron
Monsters
Edit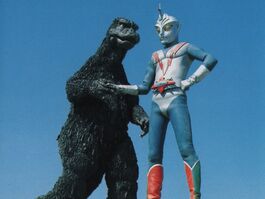 Besides the hero occasionally teaming up with Godzilla, he also fought other famous Toho monsters such as Gigan and King Ghidorah.
External Links
Edit
Community content is available under
CC-BY-SA
unless otherwise noted.