This article is about a show in the Tokusatsu Super Hero subgenre.
Thunder Mask (サンダーマスク, Sandāmasuku) is a partially lost tokusatsu series produced by Toyo Agency (now Sotsu Co. Ltd) in 1972.
Out of the whole series, epiosdes 1, 3, 6-7, 12-13, 19, and 26 are known to have been preserved.
Plot
After conquering numerous planets, the evil Devil Dekanda sets his eyes on conquering the earth, but three scientists manage to find a superhero called "Thunder Mask". Thunder Mask goes on to battle the numerous monsters sent down by: Devil Dekanda.
Characters
Hero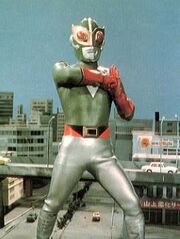 | | |
| --- | --- |
| Thunder Mask | Koichi Inochi |
Allies
Takase Space Laboratory
Dr. Takase
Mayumi Takase
Katsuya Takase
Eizuburo Roppon
Science Patrol
Yano Police Department
Wisteria Police
Detective Oki
Other
Villains and Monsters
Devil Dekanda (1-26)
Great Devil Bem King (11-26)
Shooting Star Iron Mask (12-13, 25)
Combatants (16)
Devil Beasts

Supersonic Devil Beast Concorne (1)
Great Rotation Devil Beast Tirema (2)
Heat Energy Devil Beast Parajudon (3)
Freezing Devil Beast Lydon (4)
Bloodsucking Devil Beast Samera (5)
Sand Abyss Devil Beast Hakaider (6)
Giant Whale Devil Beast Boure (7)
Saucer Devil Beast Benburn (8)
Drill Devil Beast Dorilling (9)
Melting Devil Beast Dorodoron (10)
Armored Devil Beast Zaribazan (11)
Great Dinosaur Devil Beast Megatron (12-13)
Flame Devil Beast Gaenbo (14)
Smokescreen Devil Beast Dagon H (15)
Steel Devil Beast Girigorin (16)
Radio-wave Devil Beast Derebingu (17)
Power Generation Devil Beast Battera (18)
Brainwave Devil Beast Thinnerman (19)
Heavy Tank Devil Beast Gatabilan (20)
Radioactive Devil Beast Genshiron (21)
Guided Missile Devil Beast Missiaira (22)
Poison Gas Devil Beast Gastang (23)
Bird Beast Raidogon (24)
Steel Devil Beast Tetsujin 13 (25-26)
Immortal Devil Beast Tokagerus (26)
Ancient Devil Beast Bamboss (Unused)
Great Whirlwind Devil Beast Greeder (Unused)
Typhoon Devil Beast Vibron (Unused)
Cast
Kazuichi Sekihara as Koichi Inochi
Kazumi Inoguchi as Mayumi Takase
Hidehiko Kuroda as Katsuya Takase
Kentaro Kaji as Captain Yano
Kinji Takinami as Captain Fuji
Retsu Mori as Lieutenant Oki
Toshio Fuji as Rokumoto
Norio Yamashita as Hiroshi Sayama
Kotaro Tomita as Dr. Yuichiro Takase
Eiko Hirooka as Rin
Masao Imanishi as Devil Dekanda (Voice Actor)
Shozo Iizuka as Great Devil Bem King (Voice Actor)
Shin Aomori as Shooting Star Iron Mask (Voice Actor)
Shinnosuke Kage and Kengo Nakayama as Thunder Mask (Suit Actor)
Hideki Tachibana and Tsuyoshi Narumi as Devil Dekanda (Suit Actor)
Junichi Tatsu as Great Devil Bem King (Suit Actor)
Noboyuki Hotta as Meteor Iron Mask (Suit Actor)
Narrated by: Kyoji Kobayashi
Notes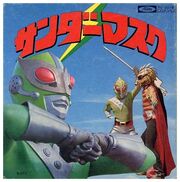 This show was originally going to be an adaptation of the Osamu Tezuka manga Majin Garon
There are two reasons why the show became missing in the book Ishiro Honda master of monsters there were legal issues that went on with the series and the agreement was that the episodes were not allowed to be rebroadcast or Tezuka hated the show so much he ordered the episodes to be destroyed

However, people can still watch the episodes that are still available on YouTube.
External Links