Toei Hero Daishugō (東映ヒーロー大集合, Tōei Hīrō Daishugō, Toei Hero Big Gathering) is the name of a 3-D film based on Metal Hero Series

franchise that was shown in 1994 at amusement parks and special events nationwide in Japan. It was shown as a triple feature alongside Super Sentai World

and Kamen Rider World

.
Synopsis
Show

, Sarah

and Sig

are fighting an alien. Meanwhile the Kakurangers

, Dairangers

, Zyurangers

, Jetmen

and Fivemen

are fighting Saigan

, Bango

, Damaru

, Soger

, Irubaru

, Batzler Soldiers

, Grinam Soldiers

, Golem Soldiers

, Cotpotros

and Emperor Daidas

and Janperson

fights Bill Goldy

and his henchmen.
Plot
First the Blue SWAT team (Show

, Sarah

and Sig

) arrive on the scene with their vehicles and draw their guns to search for an alien. They locate it nearby with the sensors in Show's suit, Sarah, Sig and Show fight the alien and Sarah uses the Flamethrower

to attack the alien. The trio then use their BW-01 Dictator

to shoot the alien and he is defeated.
Then footage of the five Sentai teams (Kakuranger

, Dairanger

, Zyuranger

, Jetman

and Fiveman

) from Super Sentai World

are here and ready to fight, Kakuranger fights Saigan

and Bango

, Red Hawk

and FiveRed

are slashing two of them, Zyurangers

use the Howling Cannon

to shoot Saigan and Dairangers

are use their Dairen Rods

to attack Bango, NinjaWhite

throws a Kakuranger Ball

to NinjaRed

to attack them. After they defeat the generals, DaiZyuJin

, Five Robo

, Muteki Shogun

, Jet Icarus

,and Dairen'O

arrive to aid them when Emperor Daidas

revives and grows and slash him using their signiture sword attacks to finally defeat him.
After someone throws a "Janperson Card" and Bill Goldy

catches it Janperson

appears and he uses the Jan Stick

and Wire Punch

to attack Bill Goldly's henchmen. Bill Goldly uses Jandetic

to shoot Janperson. Janperson uses Jan Blader

to slash Bill Goldly and he uses Knee Kick Missile

to finish him and he is defeated.
Then it ends with Janperson standing on a cliff with the Blue SWAT trio and the Kakurangers and Dairangers standing alongside each other on the other side.
Characters
Kakurangers
Dairangers
Zyurangers
Jetmen
Fivemen
Villains
Cast
Stunt Actors
Notes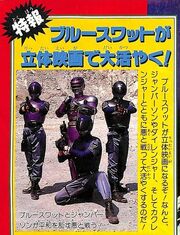 Janperson and Blue SWAT, are not shown alongside each other until the last few seconds, much less fighting together.
Actually this 5 minute movie consists of three separate battles.
Digital Releases
A bonus disc containing both Super Sentai World and Toei Hero Daishugō is included in the Super Sentai: The Movie Blu-ray Box 1976-1995 set.[2]

Gallery

TOEI UNIVERSE
The Heroes
Super Sentai

- Kamen Riders

- Space Sheriffs

- Kikaider - Kikaider 01 - Inazuman - Zubat
Crossovers in Series
Shinkenger vs. Decade: Act 20: The Ebi Origami's Transformation

, Act 21: The Father and Son Bears

,
The Arrival of the Samurai Sentai

, Heretic Rider, Go Forth!

Go-Busters vs. Gavan: Mission 31: Space Sheriff Gavan Arrives!

, Mission 32: Friendship Tag With Gavan!


ToQger vs. Gaim: Ressha Sentai ToQger Vs. Kamen Rider Gaim Spring Vacation Combining Special
Gaim vs. Kikaider: The Over Lord King

, The Red and Blue Kikaider


Ninninger vs. Drive: Shuriken Sentai Ninninger Vs. Kamen Rider Drive Spring Vacation Combining Special
Ninninger vs. Jiraiya: Shinobi 34: Enter Jiraiya, Legendary World Ninja!


Zyuohger vs. Ghost: Spring Vacation Combining Hero Festival, Ep. 7: Gho-Gho-Gho-Ghost Appears


Kyuranger vs. Ex-Aid: Chou Super Hero Taisen: Movie Release Anniversary Special
Kyuranger vs. Gavan: Space.18: Emergency Dispatch! Space Hero!

Super Hero Taisen Series
Super Hero Taisen - Super Hero Taisen Z - Kamen Rider Taisen

- Super Hero Taisen GP - Chou Super Hero Taisen
Space Squad
Dekaranger Chapter - Gavan Chapter - Girls in Trouble - Gavan vs. Dekaranger - Hero Mama League - Uchu Sentai Kyuranger vs. Space Squad
Other Crossovers
Toei Hero Daishugō (Kamen Rider World

- Super Sentai World

) - Ultraman vs. Kamen Rider - Gokaiger vs. Gavan
Cameo Crossovers
J.A.K.Q. Dengekitai vs. Gorenger

- OOO, Den-O, All Riders: Let's Go Kamen Riders

- Tokumei Sentai Go-Busters vs. Beet Buster vs. J

Crossovers in Other Media
Rangers Strike

(TCG)
View • Edit
References
Community content is available under
CC-BY-SA
unless otherwise noted.