This article is about a website in the Tokusatsu genre.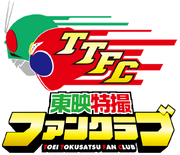 Toei Tokusatsu Fan Club (東映特撮ファンクラブ, Tōei Tokusatsu Fan Kurabu), stylized as TTFC, is a premium subscription service launched by Toei, allowing registered members to stream their massive library of tokusatsu productions, chiefly the franchises Kamen Rider

, Super Sentai

, Metal Heroes

, the Toei Fushigi Comedy Series, and various other properties owned by Toei. The service also includes exclusive specials, cast interviews, and functions as a news site for series/movie releases and events as well as contests and merchandise.
History
It was originally launched in October of 2015, when Kamen Rider Ghost

joined Shuriken Sentai Ninninger

as part of Super Hero Time.[1] It costs ¥960 a month (roughly USD$9.16 in Feb 2021) although some material requires a separate fee (see farther down). Alongside Kamen Rider 1

and Akaranger

at a press conference announcing the app was Kamen Rider 555

-star Kento Handa

. The app was later updated on December 21, 2020 to allow viewers to download videos for offline viewing.
Nearly every tokusatsu series, movie, and stage show produced by Toei is included, with a few exceptions:
For nearly the first five years of its existence, all theatrical films from Kamen Rider Agito: Project G4

/Hyakujuu Sentai Gaoranger: The Fire Mountain Roars

, all V-Cinema films after Juken Sentai Gekiranger vs. Boukenger

, all filmed stage shows (ex: tapings of the Final Live Tour stage shows), and media related to Kamen Rider Amazons

required an additional rental fee, usually around ¥490 for thirty days although stage shows rentals are only for seven. On April 1st, 2020, most of the films became available without a separate fee. Currently, only stage shows, ''Kamen Rider Amazons'', and films released to video for roughly less than a year still require a fee, with newer films losing the separate fee as they age and replaced by newer films.
Quality
In short, the quality ranges from standard definition to high definition, matching their most recent DVD or Blu-Ray release with some caveats:
Shows completed in HD are on TTFC in HD as well, even if they never received a Blu-Ray release.

Nearly every Kamen Rider series, film, and special is remastered in HD, even if they had never received a Blu-Ray release and before all of Toei's material switched to HD.
Many films are available in HD, even ones that never received a Blu-Ray release.

Regardless of the highest quality available, all shows and films can also be played from 180p to 480p/1080p, depending on the internet connection speed and user preference (for example, using a lower quality to save on data).

The download function also has different quality settings, depending in how much storage a device's internal storage or SD card has.
Most of the HD releases are in 720p quality, although newer shows and films released after (or re-released in HD after only being in SD) Kaitou Sentai Lupinranger VS Keisatsu Sentai Patranger

are in 1080p. While most of the 720p releases mostly resemble the quality of 1080p releases, a few series and films released around 2012-2017 with 720p video have slight ghosting issues that may or may not distract people when watching. However, in addition to most of the 720p shows and films not having this problem, 720p shows can be upgraded with 1080p masters (case in point being Kamen Rider Gaim when Gaim Gaiden: Kamen Rider Gridon VS Kamen Rider Bravo was released).
List of specials exclusive to TTFC
References
External links