Voicelugger (ボイスラッガー, Boisuraggā) is a Japanese tokusatsu that aired from January 12 to March 30, 1999. It was the last production by Shotaro Ishinomori, released posthumously, who intended for the series to be serious, while it was originally written to be a parody of older tokusatsu programs. The acting cast consisted of Japanese voice actors and popular singers of music in Japanese animation.
Story
[
]
The evil Emperor Genbah of the Muon Empire (ムーオン帝国の帝王ゲンバー, Mūon Teikoku no Teiō Genbā) of the planet Tsedua (ツェドゥア, Tsedua) seeks to use the Voistones (ボイストーン, Boisutōn) of four children to control Demon Beast Hades (悪魔獣ハーデス, Akumajū Hādes), but his plans are foiled by Voicelugger Gold who takes the children to Earth. Years later, the now grown up children use the power of the Voistones to fight the Muon Empire and protect the Earth.
Characters
[
]
The Voiceluggers
[
]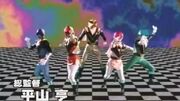 | | |
| --- | --- |
| Ruby | Akiko Homura |
| Rose | Haruka Yuuki |
| Emerald | Tomokazu Daichi |
| Sapphire | Takeshi Tenma |
| Gold | Voicelugger Gold |
Allies
[
]
Android Pi (

アンドロイド・π

Andoroido Pai

)

An assassin sent by Genbah that Akiko turns into a friend with her voice.

Mu (

μ

Myū

)

An android that also befriends the Voiceluggers.

Chaos (

カオス

Kaosu

)

The former Voicelugger Gold.
Muon Empire
[
]
Emperor Genbah (

帝王ゲンバー

Teiō Genbā

)

The ruler of the Muon Empire who seeks to use the Voiceluggers to resurrect Hades.

General Gamma (

将軍γ

Shōgun Ganma

)

Once head of the Muon Empire forces.

Eyelash Line (

アイラシュライン

Airashurain

)

Female leader of the Muon Empire's forces.
Episodes
[
]
I am a Hero

(

あたしがヒーロー

Atashi ga Hīrō

)

Rose-Colored Eyes Awaken

(

薔薇よ目を覚ませ

Bara yo Me o Samase

)

The Fate of One

(

運命がひとつになるとき

Unmei ga Hitotsu ni Naru Toki

)

Android Pi's Lullaby

(

アンドロイド・パイの子守歌

Andoroido Pai no Komorika

)

Charming Yet Malicious: Her Name is Eyelash Line

(

艶やかな悪意・その名はアイラシュライン

Tsuya ya Kana Akui: Sono Na wa Airashurain

)

Lovely Zaglaus

(

愛ゆえに・ザガラウス

Ai Yue ni: Zagarausu

)

Dangerous Superhero! Roar Great Search Line

(

危うしスーパーヒーロー!吠える大捜査線

Ayaushi Sūpāhīrō! Hoeru Daisōsasen

)

Change of Heart

(

変心

Henshin

)

Diaspora

(

四散

Shisan

)

Shouting and Whispering

(

叫びとささやき

Sakebi to Sasayaki

)

The Redemption Song is Not Singing

(

Redemption Songは歌えない

Redemption Song wa Utaenai

)

Smiling Face in Rain, Clear Weather in a Smiling Face

(

雨のち笑顔 笑顔のち晴れ

Ame nochi Egao Egao nochi Hare

)
Cast
[
]
Voicelugger Ruby/

Akiko Homura

-

Akiko Nakagawa

(

中川 亜紀子

Nakagawa Akiko

)
Voicelugger Rose/

Haruka Yuuki

-

Haruna Ikezawa

(

池澤 春菜

Ikezawa Haruna

)
Voicelugger Emerald/

Tomokazu Daichi

-

Tomokazu Seki

(

関 智一

Seki Tomokazu

)
Voicelugger Sapphire/

Takeshi Tenma

-

Takeshi Kusao

(

草尾 毅

Kusao Takeshi

)

Voicelugger Gold

-

Ichirou Mizuki

(

水木 一郎

Mizuki Ichirō

)
General Gamma -

Akira Kamiya

(

神谷 明

Kamiya Akira

)
Eyelash Line -

Michie Tomizawa

(

富沢 美智恵

Tomizawa Michie

)
Chaos -

Shin-ichiro Miki

(

三木 眞一郎

Miki Shin'ichirō

)
Mu (Voice) -

Satomi Kōrogi

(

こおろぎ さとみ

Kōrogi Satomi

)
Android Pi (Voice) -

Masami Suzuki

(

鈴木 真仁

Suzuki Masami

)
Emperor Genbah (Voice) -

Shōzō Iizuka

(

飯塚 昭三

Iizuka Shōzō

)
Songs
[
]
Opening theme

"Hoero! Voicelugger" (

ほえろ!ボイスラッガー

Hoero! Boisuraggā

, "Roar! Voicelugger") by Ichirou Mizuki
Released on a single with "Voicelugger Action" (

ボイスラッガー・アクション

Boisuraggā Akushon

)

Ending theme

"Ame nochi Egao, Egao nochi Hare" (

アメノチエガオエガオノチハレ

"Smiling Face in Rain, Clear Weather in a Smiling Face") by

Hironobu Kageyama

with

Apple Pie

Released on a single with "Change! Voicelugger" (

チェンジ!ボイスラッガー

Chenji! Boisuraggā

)
Notes
[
]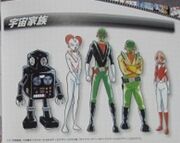 The design of the Voiceluggers are based on an Ishinomori's unused project, Space Family (

宇宙家族

Uchu Kazoku

)
References
[
]