X-Garion
Number
N/A
Number of episodes:
44
First episode:
Last episode:
Original airing:
August 1, 2019
X-Garion (엑스가리온 Ekseugarion), is a Korean tokusatsu television series.
'X-Garion' is a strong and mysterious entity with infinite power. It chooses people to be its champions, and those who gain this power can be reborn as the warriors of X-Garion. The power manifests in the form of the four sacred beasts; the White Tiger, the Blue Dragon, the Turtle, and the Phoenix. X-Garion gives that amazing power to Gaon, Hangyeol, Maru, and Tori to defend the Earth. The evil warriors of the opposing Black Army Corps have raided the Earth to collect shards of X-Garion's powers called Mega Stones and the X-Garion Warriors have to save Earth from this crisis. Their story begins now.
Characters
Edit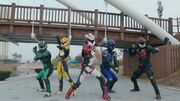 | | |
| --- | --- |
| Valkyrie Warrior | Gaon |
| Jikiry Warrior | Hangyeol |
| Saurie Warrior | Maru |
| Egierie Warrior | Tori |
| Black Valkyrie Warrior | Chris |
Commander
Hyun Member
Oh Member
Smash
Count Kodeokji
Bakchigi
Catalena
Yawang
Supporting Characters
Edit
Transformation Devices
Edit
Multi-Use Devices
Edit
Mega Stones ◇◆◆◆◆
Basic Haxle ◇◆◆◆◆
Individual Weapons[1]Edit
Ato Blaster ◇◆◆◆

Valkyrie Revolver ◇
Jikiry Sword ◆
Saurie Shield ◆
Egierie Whistle ◆

TBA ◆
Alternate Combinations
Edit
External Links
Edit
References
Edit
Community content is available under
CC-BY-SA
unless otherwise noted.