This article is about a show in the Tokusatsu Super Hero subgenre.
Yusei Oji (遊星王子, Yūsei Ōji, Planet Prince) is a 1958 tokusatsu superhero television series. Created by veteran writer Masaru Igami and produced by Nippon Gendai and Senkosha, the series aired on NTV from November 4, 1958 to October 6, 1959, with a total of 49 episodes (divided into several segments). It was created to capitalize on the success of the Super Giant serials. In fact, the title hero (whose alter-ego was Waku-san, played by Toshio Mimura) bore a strong resemblance to Super Giant.
Movies
Toei produced two movies that featured the character, but in a completely different, more streamlined costume (and goggled helmet). The hero was this time played by Tatsuo Umemiya. The films were titled:
Planet Prince (遊星王子) (Yūsei Ōji) Released: May 19, 1959
Planet Prince - The Terrifying Spaceship (遊星王子 - 恐怖の宇宙船) (Yūsei Ōji - Kyōfu no Uchūsen) Released: May 25, 1959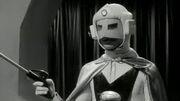 For release in America, these two movies were compiled into a TV movie titled Prince of Space.
In 2021, a reboot film titled Yusei Oji 2021 was released.
Characters
Villain
Ambassador Phantom

- Krankor

Phantom Foot Soldiers
Cast
Planet Prince/Waku-san (Prince of Space/Wally) - Tatsuo Umemiya
Ambassador Phantom (Ambassador Dictator Phantom) - Joji Oka
Sachiko (Susie) - Hiroko Mine
Dr. Maki (Dr. Macken) - Ushio Akashi
Ichiro (Johnnie) - Akira Asami
Makoto (Mickey) - Koji Komori
Kimiko (Kimmy) - Midori Tsuzuki
Takeda (Commissioner) - Takashi Kanda
Sawamoto (Dr. Sangamon) - Akira Tatematsu
Shibasaki - Masahiko Naruse
Mukai - Ken Sudo
Tabei - Ken Hasebe
Higashino - Giichi Sugi
Sakai - Koji Sahara
Tsunoda - Tokio Kozuka
Keichi Kawajima (Inspector) - Rin'ichi Yamamoto
Dr. Naito - Hiroshi Katayama
Newspaper reporter - Yuji Kitamine
Newspaper reporter - Hajime Kubo
Phantom's follower - Tsutomu Iwaki
Phantom's follower - Kenji Todoroki
Phantom's follower - Hiroshi Mihara
Phantom's follower - Nobuo Yana
Dr. Tateishi (Dr. Fletcher) - Shusuke Sone
Mrs. Tateishi - Kaoru Nakano
Commander Koda - Akikane Sawa
Secretary of Defense Fukuhara - Shiko Saito
Major Munakata - Tadashi Minamikawa
Colonel Matsuda - Junkichi Orimoto
Colonel Watanabe - Junji Masuda
Gallery
Notes
The US dubbed and spliced version of the series 2 feature films, The Prince of Space, was mocked and riffed on the series Mystery Science Theater 3000 and featured a caricature of Krankor played by Bill Corbett.
External Links